---
Dance S'More — August 6 – 12, 2023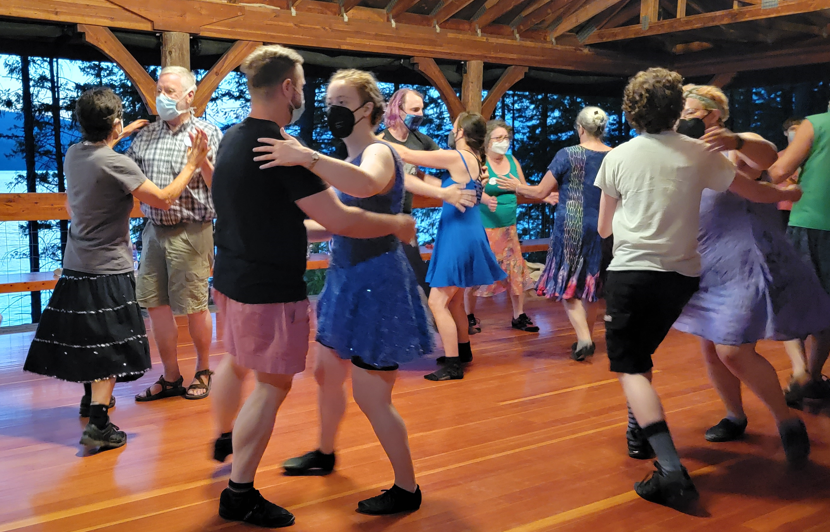 Registration opens March 1st, 2023
In 2022, Dance S'More successfully prevented the spread of Covid-19 and kept everyone who attended camp safe. We know that many people make their decision about registering for camp based on the Covid-19 protocols that will be in effect, and we would like to continue to provide a safe and healthy camp environment in 2023.
At this point, we are requiring proof of vaccination, masking while dancing and in other large group situations, and testing before and during camp. (If any of these protocols change, we will notify those who are registered as well as posting it on this webpage.)

Plan on doing an antigen rapid on the day you arrive at camp
Plan to bring to camp:

a digital or paper copy of your vaccine card
lots of masks
three unexpired antigen rapid self-test kits
We welcome you to the Lady of the Lake August camp, Dance S'More! Bring your friends, your family, your kids, your coworkers, and your neighbors to the forested shores of sparkling Lake Coeur d'Alene to disconnect and reconnect, to unplug, and to be present.
Dance S'More offers contra dancing, music jams, singing, and oh so much more! There's plenty of time to hang out with friends at the beach as well as for swimming, canoeing, sailing, hiking, and biking.
Awesome staff members are traveling from across the country to help build and enhance our community — connecting us through dance and song, playing and listening to music together, making art, sharing meals and, believe it or not, allowing time for relaxation and reflection. The food will be filling; contra calling and bathrooms will be gender-free; and if you bring kids to Dance S'More, we'll dance, play, and sing with them!
So, pack your comfy clothes, costumes, an instrument or two, swim gear, bikes, books, and games and of course your hidden talents – all to make these summer days under the tall evergreens by a wonderful lake fun and recharging.
The Program: Contras, Singing, and Art
Contra dancing is our love. Each day, callers Lindsey Dono, and Susan Michaels will offer two contra dance workshops followed by an evening full of dancing and more. The music will be wonderful, with two remarkable groups of contra dance musicians: Alex Sturbaum and Brian Lindsay (of Countercurrent) and Audrey Jaber and Amy Englesberg (of The Free Raisins).
Along with contras, Nicole Singer will head up a strong program in singing, assisted by Alex and Brian.
For more information, check out the staff page.
The Program: Kids
As an intergenerational camp, at Dance S'More all ages are welcome. While the focus is on adults, we want everyone to have the opportunity to share time with their family and extended family. To that end, if enough kids, ages 6 – 12, register to attend camp, then we will offer a daily program led by Sue Hulsether and assisted by other staff. Activities will include singing, dancing, and art. Teens ages 13 – 18 will be welcome to join in the adult program, and with enough teens, time will be provided for their own group pursuits. Kids under the age of six will be the responsibility of their parents or guardians while at camp. Please contact us with any questions you might have about programs for kids.
The Program: And More!
Even with all the dancing, singing, and art, you will have time and place to relax, reflect, and connect with yourself, friends, family, and nature. N-Sid-Sen Camp and Conference Center has been the location for Lady of the Lake camps for over forty years. With nearly a mile of shoreline and 270 acres, the camp is a remarkable place to explore and just have fun! Sit on the beach or one of several porches overlooking the lake; take a sail boat or canoe out on the twenty-three-mile-long lake; hike through the old iris farm on your way to an outcrop high above the lake, called Point of Inspiration (in the Salish language: n-sid-sen). There are two famous bike trails nearby: the Hiawatha Trail and the Trail of the Coeur d'Alenes. One of the highlights of our program is the Wednesday night cook out at the beach finishing, of course, with s'mores!
An Inclusive Place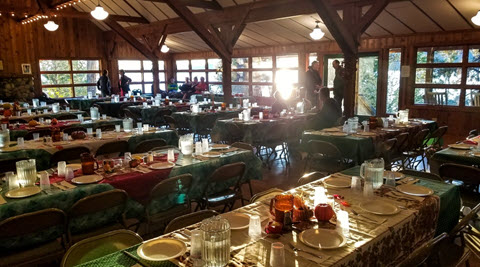 Dance S'More provides an inclusive place for everyone to feel comfortable being who they are. Camp provides gender-free bathrooms and shower facilities. Additionally, all contra dance calling will be gender-free. Housing at camp includes cedar cabins overlooking the lake. Cabins will be assigned ahead of time in part based on the preferences indicated on the registration forms. For those seeking more privacy, the nearby meadow is a favorite place for dispersed tent and RV camping. N-Sid-Sen has a well-earned reputation for wonderful meals that are made from scratch. Their homemade breads are remarkable! Food options include vegan, vegetarian, non-dairy, and gluten free. Please reach out with specific questions or concerns.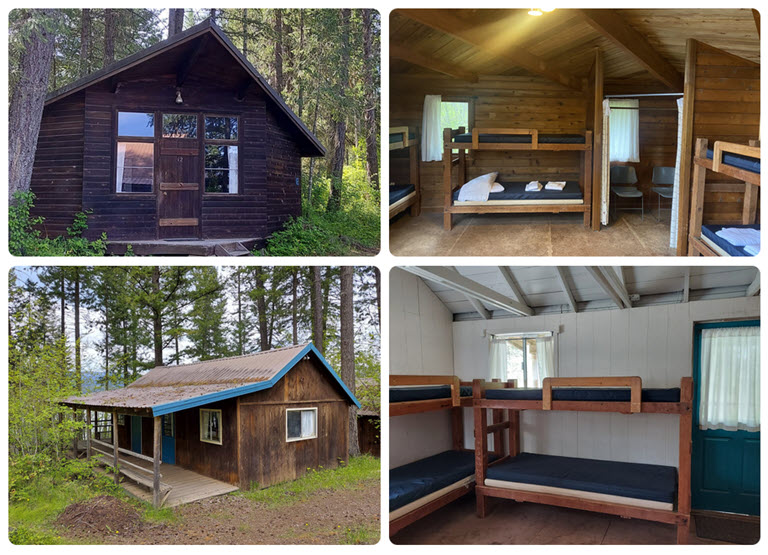 Participation & Cost
Dance S'More begins with Sunday dinner on August 6th and ends with a goodbye dance after Saturday breakfast on August 12th. In order to make Dance S'More as accessible as possible, full-time and part-time options are available.
For full-time adult and teen campers, a sliding scale of payment is available based on your needs. Our break-even price point is $750 with a sliding scale down to $550. If $750 is a stretch then please consider what you can afford. If you are in a position to pay more than $750, your additional contribution will help support other campers as well as our incredible staff.
If you are bringing kids ages 6 – 12 to camp for the week, the price is $465 for each child.
Kids under six are of course welcome. Please contact us because their fee will be based on the camp's room and board fees.
For part-time campers, you can attend camp for three days instead of six days, choosing either arriving Sunday August 6th and leaving the morning of Wednesday August 9th, or arriving Wednesday August 9th and leaving the morning of Saturday August 12th. The cost for part-time participation is $395 per person (half-week pricing is only offered to Adults and Teens).
Questions? dancesmore [ a t ] ladyofthelake.org
Campers may register with an initial deposit amount of $75. The deadline for paying the full balance for Dance S'More 2023 is July 1, 2023.
We understand that circumstances may change such that you need to cancel your registration. If you need to cancel your registration before June 1st, we will refund your full registration fee. After June 1st, regardless of when or why you are canceling, we will refund you all of your registration fee, except for the deposit amount of $75.
If you are feeling sick, please do not come to camp! Contact us ASAP.