Dance S'More Staff – 2022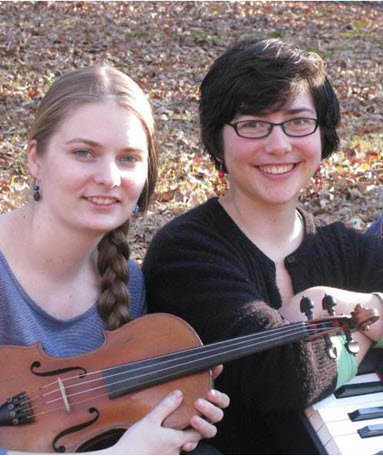 Audrey Knuth
Fiddler Audrey Knuth brings a wealth of experience and a love of music and dance to Dance S'More. Born in Hawaii, the classically trained teen found herself playing and dancing for the local Irish scene and then later the contra dance group. While attending the Berklee College of Music in Boston, she discovered she could make a living as a contra dance musician. Since 2008, she's covered the country and beyond playing in many groups including The Free Raisins (with Amy Englesberg), Wake Up Robin, and Audacious with Larry Unger. A seasoned staffer, Audrey has played at many major camps including Lady of the Lake, CDSS Pinewoods, Ashokan, Bay Area Country Dance Society (BACDS), and the John C. Campbell Folk School.
Her playing has been described as "rhythmically lively and spontaneous and irresistibly danceable." She once reflected "I feel grateful that contra dance has accepted me for who I am both musically and as a person. I think being genuine in playing and as a community member is crucial." www.audreyknuth.com
Amy Englesberg
Amy Englesberg serves as a bridge connecting many of this year's staff to one another. She has played with Brian Lindsay, Alex Sturbaum, and Audrey Knuth, she has grown up with Abigail Hobart, and has trained with one of Lady of the Lake's favorite staff members.
Amy grew up in the contra dance community in Bellingham, WA. She fell in love with the piano at age five and claims that she has played piano almost every day since. She trained under Ginny Snowe, who played many years at Lady of the Lake's Family Camp. During her first year at Brandeis University, Amy discovered "that people my age danced too!" Within the year, Amy began playing piano for contra dances. She soon met Audrey Knuth and in 2010 they formed the formidable band The Free Raisins, beginning a 10-year journey of playing music together. After three years of teaching Spanish in secondary schools back East, Amy moved to Seattle; on the trip back, she toured with Audrey and Andrew VanNorstrand. Their success resulted in another fantastic band, Wake Up Robin. She then became involved in the Seattle contra dance and music scene, joining forces with the formidable duo, Alex Sturbaum and Brian Lindsay, to form the band Saving Daylight. Amy has been on the staff at the major contra dance camps including Ashokan, Pinewoods, and BACDS. She brings great joy to her playing and she hopes, in turn, that dancers share in this joy.
Amy currently lives on a farm in Vermont with friends, her partner and their two little ones. www.amyenglesberg.com
---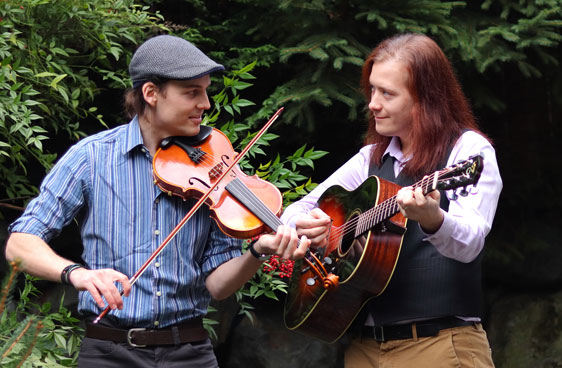 Brian Lindsay
Brian has been dancing since he could walk, singing since he could speak, and playing fiddle most of his life. Raised in New York surrounded by contradancing and Irish music, Brian was an accomplished Irish fiddler by age 17. While attending Oberlin College, he met Alex Sturbaum and together developed mutual respect and began a collaboration that continues through today. Now living in Seattle, Brian plays with Alex in many configurations including Countercurrent, Saving Daylight with Amy Englesberg, and Gallimaufry. Their "musical fluency" that comes from a decade of playing together, results in "lyrical melodies, groovy chords, thumping percussion and vocal harmonies, all simultaneously." Besides fiddle, Brian plays tenor banjo, mandolin, guitar, and flute; he also is an experienced performer of folk songs, old and new. www.brianlindsaymusic.com
Alex Sturbaum
Alex Sturbaum grew up in Cincinnati playing Irish jigs and reels at an early age. Attending Oberlin College, they were introduced to contra dancing and never looked back. Alex is a gifted musician who plays a multitude of instruments including guitar, button accordion, banjo, and mandolin. Currently living in Olympia, they play in many different configurations including Countercurrent with Brian Lindsay, Waxwings with Amy Englesberg, and Gallimaufry. Alex is also a renowned song writer who introduces contemporary narratives, as well as queer themes, in old song traditions.
Recently, Alex reflected on their passion for music and dance noting that "the contra community is one of the most welcoming, loving, and inclusive communities I have ever been a part of." They added, "I am happy to see gender free contra dancing because it breaks down the assumption that you can determine a person's behavior by how they present." And in regard to their songs, Alex says "I try to strike a balance — my songs are usually recognizable as folk songs in terms of structure and style but I like to try to fill vacancies in the tradition and sing songs I wish already existed." www.alexsturbaum.com
---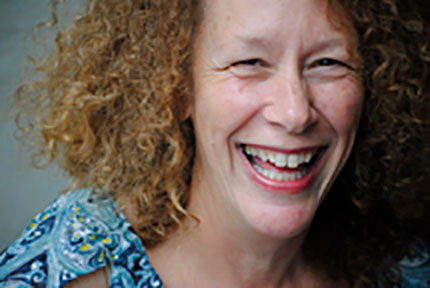 Susan Michaels
Susan Michaels is Lady of the Lake. She first attended June camp as a dancer in the late 1980s; then as a parent, with daughter Sophie, going to Family camp in 1999; and then as a staff member for Family camp for the past ten years. During that time, she has become a fabulous dance caller, storyteller, and an all-around wonderful camper.
Susan learned to dance and call in the Los Angeles area but for the past six years has lived on Vashon Island here in the Northwest. She describes herself as "a facilitator of joy" – "creating a community among random strangers by getting them to move together with the music" resulting in "everyone smiling." She admits that calling "feeds my soul."
Susan grew up surrounded by storytellers including her grandmother, mother, and father, and came to feel that she shared their gift. "It was my turn to keep the family stories alive." The breakout moment for her was at Lady of the Lake when she realized that these stories, and those drawn from her own remarkable life, had universal appeal. She is now famous for her stories that make you laugh and cry all at the same time.
As for calling, Susan brings to her calling humor and insight. She teaches and encourages in a safe and accessible manner. And most importantly she stays current. She noted "the needs of our community are always changing." She has been attributed with first using the gender free prompts of "lark and raven" (later changed to "robin") to replace "ladies and gents."
---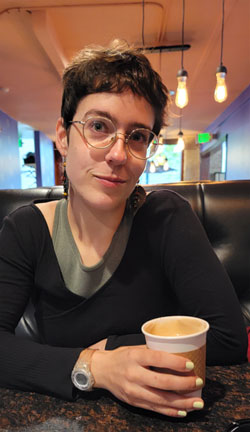 Abigail Hobart
Abigail Hobart grew up contradancing, fiddling, and "running around in the verdant woods of coastal Washington State." Raised in Bellingham, she and her family were faithful participants at Lady of the Lake's Family Camp. She continued her passion for music and dance while attending Hampshire College in Massachusetts where she majored in ethnomusicology and sustainability, studying the impact of community and folk music and dance. Then in Washington, DC, she helped organize the National Folk Festival among other events for the National Council for Traditional Arts.
An early proponent of inclusivity, Abigail in 2012 organized a monthly contra dance that was gender-free at Hampshire College. She explained in a blog in 2014 that contra dancing is a live folk form; and the use of gender-free prompts was "a response to the evolving needs and interests of the dance community."
Abigail began calling about five years ago, after she found herself teaching contras at an open mic at a punk squat in London. Since then, she has called across the country in multiple situations including festivals, contra dance series, family dances, and private events. As a caller "her goal is to be kind to all and to bring people into this art form and all its potential for joy and connection." She aims for her calling to be "easy to understand, playful, encouraging, and inclusive to all dancers."
When Abigail isn't calling or dancing, she is playing the fiddle. She is the recipient of a Maryland State Arts Council award in which she studied with bluegrass fiddler Rickie Simpkins.
---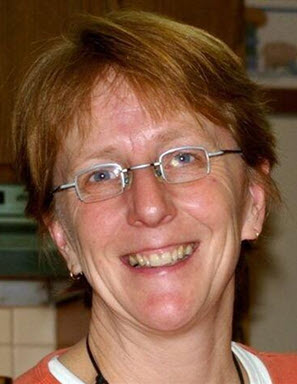 Sue Hulsether
A Lady of the Lake favorite, Sue Hulsether has shared her ability to work joyfully with all participants at six of our Family Camps. One of her many strengths is versatility: she is adept at leading square, contra, and circle dances as well as singing games, traditional play parties and longways set dances for preschoolers to octogenarians and everyone in between!  She does so with clear teaching, welcoming manner and engaging humor. Sue also plays piano, guitar, and banjo as well as being an accomplished flatfoot dancer. Sue will be heading up our kids' program, focusing on ages 6-9 year olds.
Before her career as a full-time caller and teaching artist, Sue was an elementary music teacher and applies her skills as a teacher to her workshops. Teaching younger members of our community, she finds the tantalizing moments of a dance, teaches it first, and thereby "hooks" her dancers to learn the rest of the moves. She explained her love of teaching and calling: "I love helping people connect with each other and music." And she finds Lady of the Lake to be the ideal experience. "I love how the entire community values each individual with their gifts, quirks, and insights." The goal of each week is "joy and laughter."
When she isn't traveling the country leading dances, Sue lives on a twenty acre farm in Wisconsin with her spouse and a crew of shy barn cats. www.suehulsether.com
---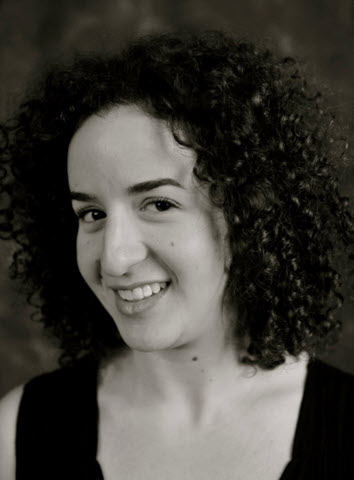 Nicole Singer
Nicole Singer fell in love with the songs of the sea while attending the collaborative Williams College and Mystic Seaport Maritime Studies Program, and immersed herself further in maritime work as a deckhand aboard the schooner Mystic Whaler and as an educator aboard the sloop Clearwater. Today, she performs in concerts and festivals throughout the Northeast specializing in chanteys and other maritime music. One reviewer noted that her performance was "disarmingly simple; her voice steady and sure; and her repartee, witting and engaging."
Nicole spends much of her time as a public elementary school art teacher in Amherst, MA, and she brings her teaching experience to the singing workshops that she offers at festivals and summer camps including CDSS's Pinewoods. There, she shares not only her maritime songs but also ballads, camp songs, pub songs, kids songs, shape note singing and much more. Nicole "loves creating song sessions that bring people together across generations, fostering community, and making sessions inclusive and enjoyable for all."
Besides singing and teaching, Nicole can be found behind the scenes organizing traditional music events. She is a co-founder and organizer of Youth Traditional Song Weekend, co-author of CDSS's Folk Sing Starter Kit, and the chair for the folk music and song programming at the prestigious NEFFA spring festival. www.nicolesinger.com
---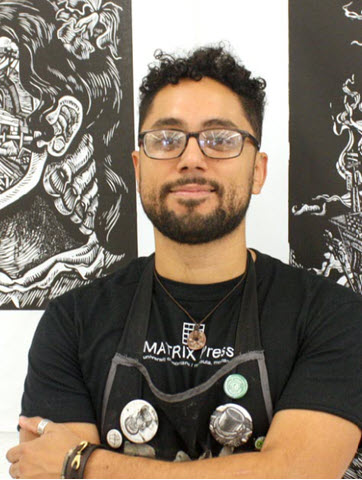 Reinaldo Gil Zambrano
Reinaldo Gil Zambrano's passion for art was clear from an early age: his bedroom walls in Caracas, Venezuela were covered with his drawings. At age 16, he qualified for the United World College in Costa Rica; and then received a scholarship in art at the College of Idaho. He then earned an MFA at the University of Idaho where he met his wife, artist Ashley Vaughn from Spokane. Currently he is an assistant professor of printmaking at Gonzaga University.
Reinaldo describes himself as "a collector of stories" who "creates visual narratives within one frame" by carving into a block. He draws on his Latin American culture in order to intersect storytelling with magical realism. Above all Reinaldo believes that art and stories help to build community. Home, family and community are important pillars of both his art and his person.
"I feel connected with people in so many ways; many times, there is a wordless dialogue created by sharing of an experience, a meal or a story. When we allow ourselves to be open and vulnerable, we get to connect with others in a deeper way."
Where ever he goes, Reinaldo creates experiences that bring people together to celebrate and participate in art. "My intention is to bring people together to celebrate communal art making. I want to get people excited about making art!"
Reinaldo will be joined at Dance S'More by his partner Ashley Vaughn, a printmaker in her own right. Born in Spokane, Ashley holds a BFA from Eastern Washington University and an MFA from University of Idaho. She focuses on nature and commonalities of daily life, celebrating the magic in the little things through printmaking, video, ceramics, and more. Together, she and Reinaldo will provide an amazing program for beginners and more the experienced alike to explore art within the context of one's own experiences. Be prepared for any amazing journey! www.reinaldogilzambrano.com
---
Alan Roberts and Gumby (aka Kristin Falk)
Managing sound for us will be Alan and Gumby, who have worked as a team many times. It is certain that they will ably ensure our listening and dancing pleasure; we won't miss a beat (or a call)!