June Week – Workshop info
June Week 2023 – Workshop schedule with descriptions
Session One — 9:15 – 10:30
1:1: Synced Up Contras. Sarah and Figments. Dancing in Stillwater.
A session focused on ways in which we connect with each other while dancing. Contra dancing allows for an entire hall of people to move in synchronicity with each other, unlike many other forms of social dance. During this session we will pay particular attention to those unifying moments and explore ways we can become better partners, neighbors and community dances so we can sync up and connect across the dance floor.
1:2 Advanced English. David Millstone and Campaign for Reel Time. Pavilion
While exploring more complex dances, we'll look at ways to improve our dancing: posture, movement, flow, connection, zest. Not all dances will be brain busters but some require sleeping neurons to pay attention. Prerequisites: confidence with English country dance figures, ability to recover from mistakes, helpful attitude, and a sense of humor.
Session Two — 10:45 – 11:45
2:1 English for Everyone. Wendy and Figments. Stillwater
Together we'll joyfully dance to music that inspires movement in a relaxed, welcoming session for all in the English Country Dance tradition.
2:2 Contra Caller's Workshop with Sarah and Kathy Bowman. Pavilion
2:3 Band/Instrument workshop with Kevin and Jenny in Spirit.
Session Three — 1:00 – 2:00
3:1 Changing Contras over the Years. David Millstone and Campaign for Reel Time. Stillwater
From classic "chestnuts" to contemporary cool-move contras, we'll explore how American country dance has changed over two centuries. We'll celebrate the first dances to introduce a given figure into the modern contra repertoire, a process that has mushroomed in recent decades. This dancing session fits nicely with the Dance History presentations, or can be enjoyed on its own.
3:2 English Caller's workshop with Wendy and Anna in the Pavilion
Are you curious about what it takes to call an English Country dance or you're an experienced caller who wants to finesse your calling techniques? Get hands-on guidance, tricks, tips and tools during this highly interactive, participatory class. Whether you are a budding or a seasoned caller, everyone will build a useful callers toolkit.
3:3 Band / Instrument workshop with Ethan and Owen in Spirit
Session Four — 2:15 – 3:15
4:1 Social Couples Dance. Wendy and Road Trip. Stillwater
We're exploring several partner dances over the course of the week and featuring something new each day. The class culminates in an end of the week dance party. We're likely to cover Swing, Latin, Zydeco/Cajun/Two-Step, and Waltz. All with LIVE music — what a treat!
4:2 Singing with Betsy in the Pavilion
4:3 Country Dance History: A Complex Braid with David Millstone in Spirit
Contras, squares, and English country dances are all related, sharing roots and continuing to influence each other. We'll travel from 1651 to the present through a series of presentations that include audio, moving images, photographs, text, and comments. You'll discover some unexpected connections and you'll come away with a better sense of how we came to be here dancing today.
Session Five — 3:30 – 4:30
5:1 Go with the Flow Contras. Sarah and Road Trip. Stillwater
Dances that flow beautifully from move to move- some of my favorite choreography. Whether it's elegant and relaxed or driving and uptempo, these dances feature seamless transitions. I try and encourage the dancers to really get lost in the music, letting the dance carry them from one move to the next.
5:2 ECD Band/Instrument workshop. Campaign for Reel Time. Pavilion.
Session Six — 4:45 – 5:45
6:1 Basque Music, Dance, and Culture. David Romtvedt. Stillwater
This workshop will offer musicians an opportunity to learn some Basque dance tunes within the context of the local and global Basque cultural settings. Non musicians are welcome as we will explore dances (Susan Morgan will teach a couple of Basque dances during the week) as well as thinking about this music in relation to the Basque experience as a small nation facing pressure from outside political entities. We will learn the music and dance forms as practiced through out the Basque American communities of the Intermountain West. Tunes and songs will include fandangos, arins and waltzes.
Workshop locations – Spirit, Pavilion, and Stillwater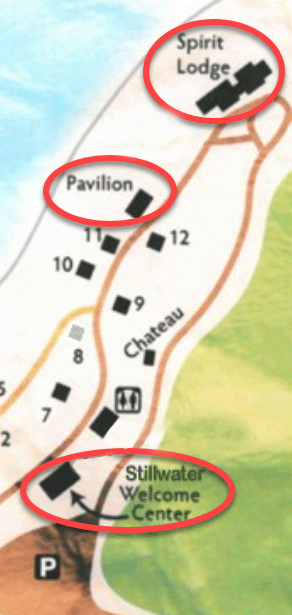 (see bottom of Camp Location page for map from which this one was excerpted)