We'll continue to monitor the Covid-19 situation; the health of our campers and staff is our primary concern. Any changes will be updated here.
---
Mini-June Week (Music and Dance Week) — June 24 – 28, 2021.
Camp is full and we have a long waiting list. Our registrar will soon write to let registrants know their status.
Our mini-June Week camp will be of shorter duration than usual. We start on a Thursday and end on Monday (four nights).
There will be fewer people and staff, with 40 participant maximum (5 staff, 35 campers). Creativity and flexibility is the theme!
Vaccines will be required (with proof of a 2nd dose by June 10th).
No exceptions.
Camp N-Sid-Sen protocol dictates that all dancing/activities will be outside in the Pavilion AND masked and distanced. You can swing and do couple dancing with your "bubble partner/spouse." Erik has distanced ECD dances and distanced contra dances for our dancing pleasure and amusement.
The cost is $490/person, with full payment due by May 1st.
If you become ill or are unsuccessful getting the vaccine, a full refund will be given.
Registration opens April 1st, 2021.
Enrollment is on a first come, first served basis.
The Band & Caller For Contra and English Country Dance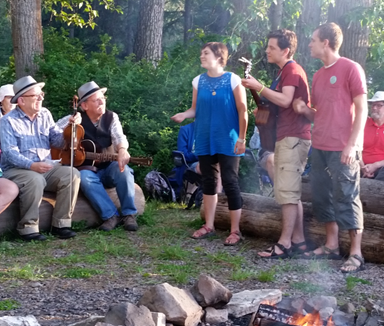 Campaign for Reel Time
Betsy Branch
Bill Tomczak
Mark Douglass
CALLER

Erik Weberg
TENTATIVE 2021 Daily Schedule Highlights 9-5pm
1 Contra dance
1 English Country dance (ECD)
1 callers' workshop
1 singing workshop
Lots of playing music and jamming
Swimming, boating, and napping
AND THEN 8-10 pm Dance!!
More details will be provided as they become available.
Camp Information
On the scenic shores of Lake Coeur d'Alene in northern Idaho, lies the ideal location for the Lady of the Lake Music and Dance Camp. Come join us at Camp N-Sid-Sen, an idyllic 257 acres of tall pine and fir forest. There is nearly a mile of lake shore, hiking trails, boats and beach. The camp has a beautiful new dance hall, multiple workshop sites, clean, tidy cabins, delicious food and more
Housing, Camping, and Food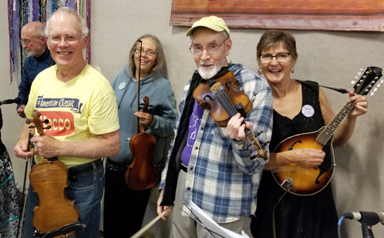 Twelve cedar cabins sleep 6 to 12 people each. All have bunk beds with mattresses provided. Camping is available for those who prefer. Please let us know ahead of time because cabin assignments are prearranged.
Balanced meals include dairy products, meat and fish. Meatless alternatives and/or dairy free and/or gluten free as well as vegan options are provided for those who specify these preferences at the time of registration. No other food needs or severe allergies will be accommodated. There is some refrigerator space available if you need to bring your own food.
2021 Camp Registration Fees
Please, no payments until you've been accepted into camp (and no deposits – payments will be in full). Thanks!
Vaccinated Adults and Teens $490 per person
Camp fee includes lodging, workshops, and meals beginning with an evening dinner and ending with a breakfast.
Registration
Register early! Registration is limited.
Cancellation Policy
Cancellation after May 1st, we will retain $100. Full refund if you are ill or cannot get the vaccine in time. Contact us ASAP.

For questions about this camp, please contact