Hello Lady of the Lake campers,
Due to the current public health situation, we've made the tough decision to cancel June week until next year (June 20-26, 2021), but we'll have one heck of a party then!! Practice your dance moves and keep on playing music and stay ready for when we dance again!
I believe I speak for all of us when I say that we miss our contra dance community!!! And we eagerly await dancing with you at Lady of the Lake June week 2021. Registration opens January 1, 2021. 'Til we can dance again, be safe, and dance in your living room.
A virtual hug and twirl, Oshi, Mark and the rest of the gang
---
Music and Dance Week — June 21 – 27, 2020
Registration opens January 1st, 2020.
Enrollment is on a first come, first served basis.
The Bands & Callers For Contra and English Country Dance
LATTER DAY LIZARDS
David Langford
Kate Barnes
Bill Tomczak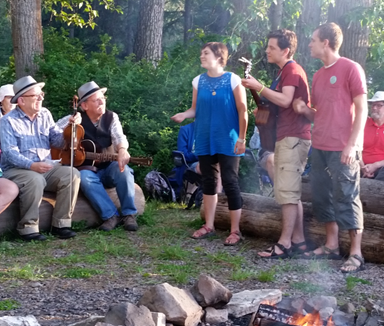 SPIN
Rodney Miller
David Bartley
Anita Anderson
BETSY AND LISA
Betsy Branch
Lisa Scott
THE CANOTE BROTHERS
Greg Canote
Jere Canote
CALLERS
Lisa Greenleaf
Will Mentor
Erik Weberg
2020 Daily Schedule Highlights 9-5pm
3 Contra dances
2 English Country dances (ECD)
2 callers' workshops – 1 contra, 1 ECD
1 square dance
3 dance band/instrument workshops (1 is ECD)
UKE workshop (beginner 2 days, advanced 3 days) with the Canotes
Swing guitar & fiddle workshop with Canotes and old time tunes
1 singing workshop with Susan Morgan
Open contra band with Betsy Branch
Swimming, jamming, and napping
AND THEN !!!!!!
Every evening CONTRA DANCING from 8:00 – 11:15 pm!!!!

2-3 ECD dances 8:00 – 9:30 pm, running CONCURRENTLY with the contra dancing
Campers' night on Thursday
Rendezvous most evenings
Camp Information
On the scenic shores of Lake Coeur d'Alene in northern Idaho, lies the ideal location for the Lady of the Lake Music and Dance Camp. Come join us at Camp N-Sid-Sen, an idyllic 257 acres of tall pine and fir forest. There is nearly a mile of lake shore, hiking trails, boats and beach. The camp has a beautiful new dance hall, multiple workshop sites, clean, tidy cabins, delicious food and more
Housing, Camping, and Food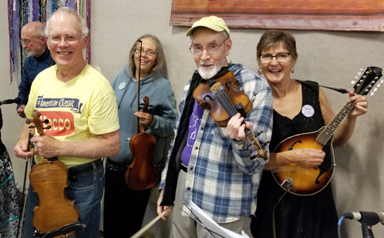 Twelve cedar cabins sleep 6 to 12 people each. All have bunk beds with mattresses provided. Camping is available for those who prefer. Please let us know ahead of time because cabin assignments are prearranged.
Balanced meals include dairy products, meat and fish. Meatless alternatives and/or dairy free and/or gluten free as well as vegan options are provided for those who specify these preferences at the time of registration. No other food needs or severe allergies will be accommodated. There is some refrigerator space available if you need to bring your own food.
2020 Camp Registration Fees
* You can pay online through PayPal – See Payments in menu above (black band below logo)*
Adults (18+) $690 per person ($670 if camping)
Teens (12-17) $590 per person
Camp fee includes lodging, workshops, and meals beginning with Sunday evening dinner and ending with Saturday breakfast.
Airport Transportation: We can provide transportation to and from the Spokane Airport if you arrive before 2:00 p.m. on Sunday and depart after 2:00 p.m. on Saturday. There will be a fee of $40 for this service payable to Lady of the Lake.
Registration
Register early! Registration is limited to the first 125 who register on a first come, first served basis.
Cancellation Policy
For cancellations received at least 60 days prior to the start of camp, we will refund all but $50 per person. For cancellations between 30 to 60 days prior to the start of camp we will retain $100 per person. For cancellations less than 30 days before camp, no refund will be made. If you are sick, refund available, contact us ASAP.

For questions about this camp, please contact
The June Week Brochure for 2020 is available for download.